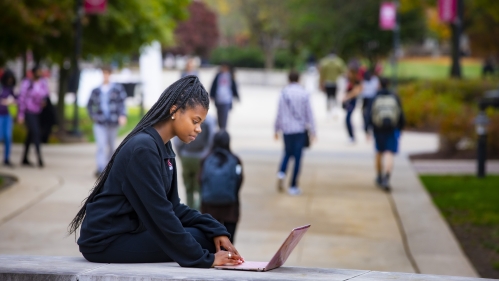 Doctor of Philosophy (PhD)
Application Requirements
Requirements for admission to the PhD program are generally more stringent than those for the MPH or MS degree programs. Considerable attention is given to the match between the expertise of the faculty and the specific interests of the candidate. 
Each applicant to the PhD program is required to submit a full application, including identification of an area of proposed research. These materials will be reviewed by the entire doctoral committee for quality and compatibility with the interests of the faculty. 
Personal visits are strongly encouraged for applicants to meet with faculty prior to this review. 
After review by the doctoral committee and upon identification of a Rutgers School of Public Health faculty member (at the rank of assistant professor or higher) willing to serve as the applicant's advisor, the doctoral committee may recommend admission of that student.
OFFICIAL TRANSCRIPTS 1
(all transcripts must be official sent directly from accredited institution)

Official transcripts from all post-secondary institutions attended. Required from an accredited school in the US or Canada; International applicants see footnote below

GRADUATE RECORD EXAM (GRE)2 

Optional

ESSAY ON STATEMENT OF GOALS

Required

LETTERS OF RECOMMENDATION3

Three letters are required for doctoral degree applicants.

WAIVERS FOR UNDERGRADUATE DEGREE TRANSCRIPT2

MD, DO, PhD, DDS, DMD, DVM, EdD, DrPH, ScD, PharmD from an accredited US or Canadian school

TOEFL or IELTS
(must be official copy)

Required for students educated outside the US in Non-English speaking countries, or a passing score in the English Portion of the ECFMG

WORK EXPERIENCE

Relevant work experience is preferred

PREREQUISITE COURSES

Varies Department of Specialization
NOTES
1For students who obtained a degree in a country other than the U.S. or Canada, a course-by-course evaluation of their transcripts is required unless an advanced degree has been earned in the U.S. SOPHAS only accepts transcript evaluations by the World Education Services Inc. (WES). It is the responsibility of the student to obtain this evaluation.

2In the case of a doctoral-trained applicant, who is a faculty member at Rutgers, a Letter of Appointment by the Board of Governors or other employment official may replace the transcripts and GRE scores.

3 If coming directly from an academic setting, a letter from a faculty member is preferred