Arts in Health Research Lab
About Us
Arts in Health is a multidisciplinary field of practice, education, and research at the intersection of arts and health. Anecdotally, we've all experienced the benefits of engaging with the arts—a song that brings us joy or calm, a poem or story that helps us make meaning, a performance that brings together a community. There is a developing body of evidence that shows that, like exercise and good nutrition, the arts are beneficial for our physical and mental health. In fact, arts participation is now understood to be a health behavior and a social determinant of health. Building on a growing field of Arts in Health across the country and around the world, Rutgers Mason Gross School of the Arts, Rutgers School of Public Health, and the New Jersey Performing Arts Center have joined in an interdisciplinary partnership to launch the Arts in Health Research Lab. The goals of the Arts in Health Research Lab are to perform Arts in Health research that benefits populations across the state of New Jersey, innovate new research strategies including arts-based research methods and art-as-data collection, and establish a research plan to assess the health impact of NJPAC and Mason Gross arts experiences and programs.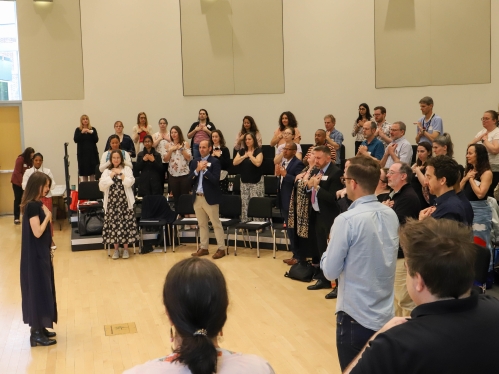 Info. for Faculty & Staff
Learn more about the Arts in Health Research Lab and the field of Arts in Health, be a contributor to the Lab's visioning process, and get to know colleagues from across departments and schools by attending one of the Lab's quarterly Open Houses! 
Exact dates and times to be announced for Open House events in April, July, and October 2023.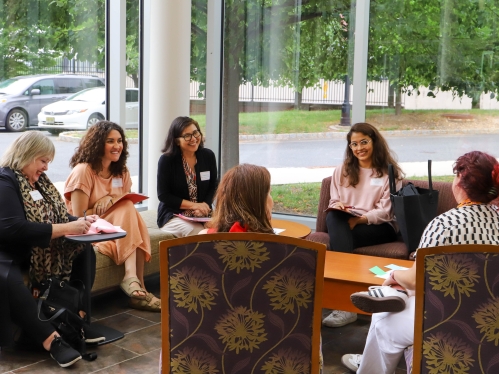 Info. for Students
Are you interested in the intersection of arts, creativity, health, and medicine? 
Join the Arts in Health Research Lab! 
The Lab engages students in developing research and leadership skills and encourages creativity and interdisciplinary research. 
The Lab is currently conducting an array of benchmarking research studies and will continue to craft a research agenda exploring the health benefits of engaging with the arts. These studies offer opportunities for undergraduate and graduate students to gain experience with qualitative, quantitative, and mixed methods research. Students engage in a wide variety of tasks, including literature review, data collection, analysis, and hands-on work in the field. 
Applications for Summer 2023 will open in April.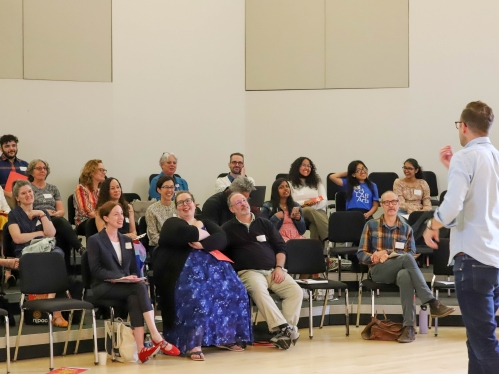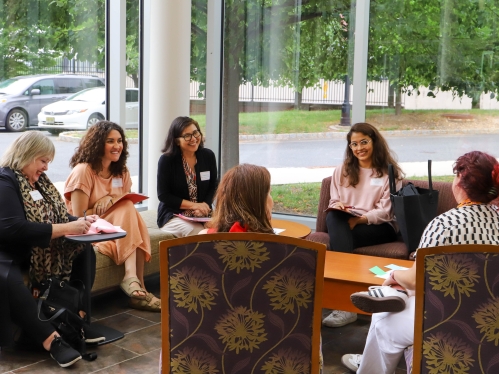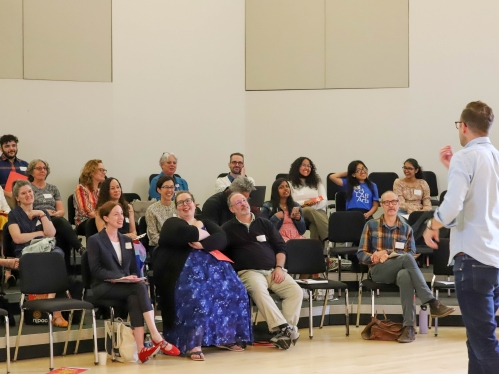 The Arts in Health Research Lab is a Collaborative Effort 
FAQ
Questions? Check out the FAQ below. 
The Lab will meet at least once a week. Lab meetings are virtual at this time. Currently, the foundational team establishing the Lab meets weekly, on Tuesday afternoons. Once lab faculty co-leads are in place, they will embark on a visioning process with the other confirmed lab stakeholders. We anticipate the Lab to continue to meet weekly during the visioning process, however, the meeting day and time will be determined by when the majority of stakeholders are available. 

Faculty co-leads and student lab members are expected to attend every lab meeting. Other staff and faculty lab stakeholders are encouraged to attend as many regular lab meetings as possible, but it is not required. 

Please complete this interest form outlining the purpose and methodology of your study along with other factors. We will contact you to set up a time to talk!