Office for Marketing and Communication
Who We Are
The office exists to uphold and advance the mission, vision, and values of the school through increasing visibility, awareness, and reputation by highlighting students, faculty, alumni, programs, and research to New Jersey, national, and international audiences. 
In addition to curating stories and disseminating information on groundbreaking research and advances in public health, the office maintains the school's official social media accounts, works with members of the press, updates website copy, develops educational program marketing materials, consults units on best practices, and much more. 
Journalist or reporter? Contact Michelle Edelstein at michelle.edelstein@rutgers.edu.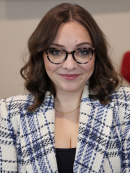 Michelle Edelstein, MPH (she/her/hers)