Master of Science (MS) in Biostatistics
About the MS in Biostatistics
The MS in Biostatistics degree, a STEM designated program, prepares students to possess the knowledge and technical skills needed for the design, data analysis, and interpretation of findings from modern health-related studies.
Students enrolled in the program will learn about statistical theory and modeling, as well as gain real experience utilizing a variety of statistical software packages that enable them to design and analyze data from experimental and observational data sets, to help solve medical and public health problems, and to communicate findings to investigators or community members.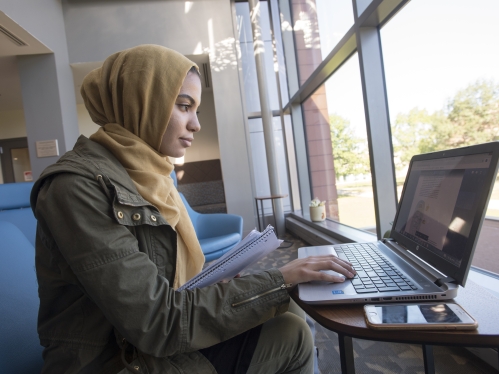 Students can only begin their studies in the fall semester
Each department identifies competencies for each degree offered. These competencies reflect the full range of knowledge, skills, and other attributes that a student will acquire as a result of completing the requirements for a particular degree.

Upon graduation, a student completing the MS curriculum in Biostatistics will be able to:

Apply probability and statistical methods to design experimental and observational studies in biomedical, clinical, and public health research

Use probability and statistical theory to evaluate and identify appropriate methods of analysis

Conduct appropriate statistical analysis of data to solve medical and public health problems

Use a variety of statistical computer packages

Communicate the results of statistical studies both in writing and orally to investigators and lay community members

Students seeking the MS in Biostatistics degree must complete 30 credits of academic work with a minimum GPA of least 3.0; earn no more than six (6) credits bearing grades less than "B," and complete the degree requirements within four years. Courses are three credit hours unless otherwise noted and semester when each course is typically offered is noted parentheses. Students should review the Forward Schedule for long-term course planning and the Course Schedule for each semester to determine when, where, and how a course is offered.

 PREREQUISITES

3 credits in college biology, human behavior, social or health science

3 credits in college calculus

Demonstration of computer competence

CORE COURSES (6 credits)

PHCO 0502

 - Principles and Methods of Epidemiology (Fall/Spring/Summer)

PHCO 0512

 - Public Health Foundations (Spring)

REQUIRED COURSES (18 credits) Students should review the Course Descriptions in the School Catalog for specific information about prerequisites required for required courses and recommended electives.

BIST 0610

 - Advanced Regression Methods for Public Health Studies (Spring)

BIST 0613

 - Biostatistics Theory I (Fall) [or 16:960:592 within Department of Statistics, Rutgers School of Arts and Sciences]

BIST 0614

 - Biostatistics Theory II (Spring) [or 16:960:593 within Department of Statistics, Rutgers School of Arts and Sciences]

BIST 0615

 - Categorical Data Analysis (Fall)

BIST 0625

 - Fundamentals of Biostatistics (Fall)

-also-

Choose one of the following two:

BIST 0627

 - Applied Survival Data Analysis (Spring)

BIST 0650

 - Applied Longitudinal Data Analysis (Fall)

RESEARCH (0 credits)

 RESH 0600

 - Master of Science Research

 RECOMMENDED ELECTIVE COURSES (6 credits)

BIST 0630

 - Sampling Methods

BIST 0655

 - Biocomputing II

BIST 0660

 - Clinical Trial: Design and Analysis of Medical Experiments

BIST 0687

 - Biostatistics for Environmental and Occupational Health

BIST 0688

 - Statistical Methods in Genetics

BIST 9619

 - Design of Experiments

BIST 9655

 - Nonparametric Statistics

 Other Requirements

 

Research paper (as part of Master of Science Research)
Master of Science (MS) vs. Master of Public Health (MPH) – What's the difference?
The Rutgers School of Public Health offers MS and MPH in Biostatistics degrees.
The MS degree focuses on training students for biostatistical and pharmaceutical research and serves as preparation for doctoral degree programs. The MPH degree focuses on core areas of public health and trains students in the biostatistical concepts, methods, and skills needed to pursue a career in interdisciplinary public health.