About the NJ Safe Schools Program (NJ SS or Safe Schools)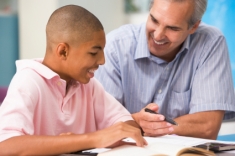 NJ SS is a project supported by the New Jersey Department of Education, Office of Career Readiness, to assist schools in reducing risk to occupational safety and health hazards in secondary school and work microenvironments in which NJ adolescents spend time. The project is administered by the Rutgers-School of Public Health.
NJ SS involves a number of training/education, incident/injury surveillance, and technical assistance components designed to support teachers, administrators, safety and health designees, structured learning experience/work-based learning coordinators, career orientation coordinators, county and local school district apprenticeship coordinators, cooperative education coordinators.
"Safe Schools: a health and safety check." This is a manual of checklists covering environmental and occupational safety & health regulations for secondary occupational and career orientation programs in New Jersey public schools. The manual is updated annually, available online and as an app.
Required training for supervising structured learning experiences (includes registration fee):

NJ Wage and Hour and Wage Payment and Child Labor Laws, Regulations and Hazardous Orders Course (5-6 hours online and an additional 1-hour virtual live session with course trainers; equivalent to prior 1-day in-person format)
Federal Wage and Hour and Child Labor Laws, Regulations and Hazardous Orders course (5-6 hours online; equivalent to prior 1-day in-person format)
OSHA 10 Plus (12 hours online and an additional 2-hour virtual live session with course trainers; equivalent to prior 2-day in-person format)
Designing and Implementing Student Training Plans course (18 hours online and an additional 2-hour virtual live session with course trainers; equivalent to prior 3-day in-person format)

Free occupational safety and health training
Resources available at partner universities, agencies and non-profit websites
Injury and illness tracking

Summary Reports by Fiscal Year

Development of a model safety and health plan for schools
Development of a worksite safety and health evaluation guide to help schools assess occupational safety and health risks when placing students at worksites. Click here for some real life examples of the document in use.
Training needs assessments
Project evaluation
Assistance with safety and health questions