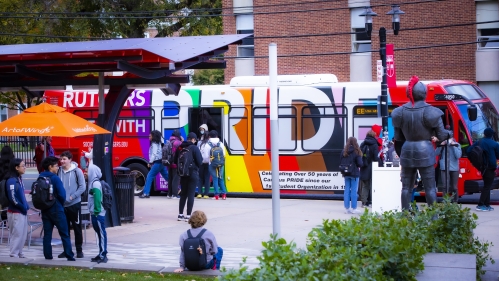 CHIBPS
Center for Health, Identity, Behavior & Prevention Studies
The Center for Health, Identity, Behavior and Prevention Studies (CHIBPS) is a nationally recognized center for the study of LGBTQ health with a focus on the disparities of infectious diseases including HIV, substance use, and mental health burden.
The CHIBPS research team is composed of individuals from a variety of disciplines including psychology, public health, social work, and neuroscience. For more information about the CHIBPS team and our community partners, please visit our Who's Who webpage. 
CHIBPS is an interdisciplinary research center within the Rutgers School of Public Health and a U=U Community Partner.
To learn more about our active research projects and find out how you can get involved, click here to see our current research studies.
TGNB Mental Health Care Study
We are recruiting transgender, non-binary, and gender non-conforming (TGNB) individuals for a study focusing on our community's access to, and experience of, mental health care.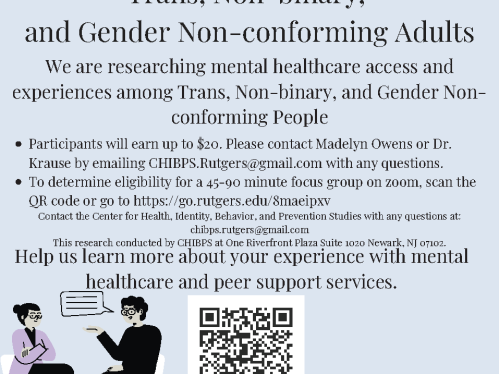 Gun Violence in the Context of Interpersonal Violence Among Sexual and Gender Minorities (GIVES) Study
We are recruiting members of the LGBTQ community to learn more about their experiences with guns. Our survey explores beliefs on firearms, ownership, and safety. Our interviews explore gun related interpersonal violence experiences.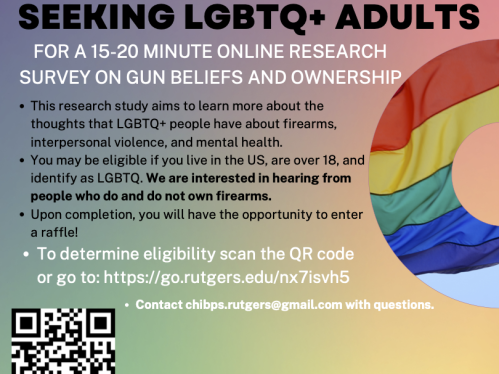 Essex County LGBTQ Health Needs Assessment
We are collecting data on the health-related experiences of LGBTQ people who live in Essex County.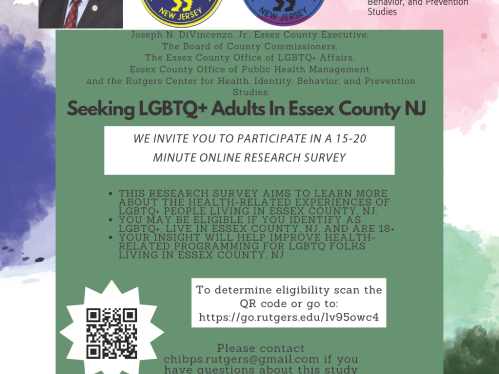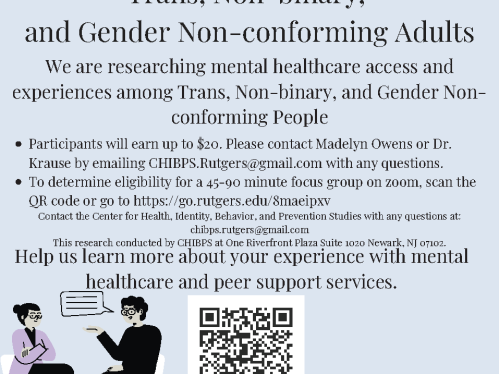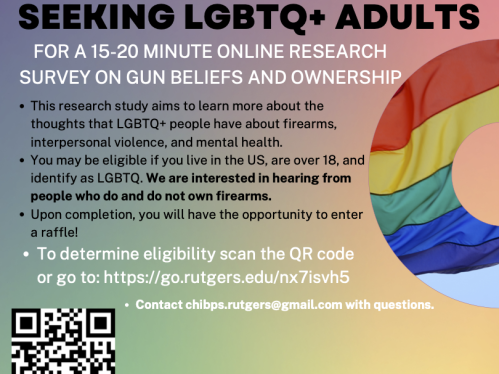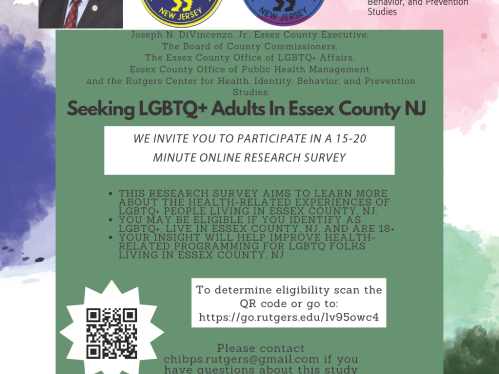 Mission

CHIBPS advances research and knowledge to improve the lives of those affected with or by HIV and other infectious diseases, substance use, and mental health burden through the rigorous application of social science and public health research paradigms. The team at CHIBPS envisions, develops, and enacts research with and for the communities we study.

Vision

The Center for Health, Identity, Behavior and Prevention Studies (CHIBPS) enacts research to enhance the well-being of all people, including sexual, racial, ethnic and cultural minorities and other marginalized populations. We train the future generation of behavioral and public health researchers and work with community partners to conduct research that resides on the hyphen between theory and practice.

If you are interested in our internship program, please e-mail a cover letter and CV/resume to chibps@sph.rutgers.edu with the subject 'CHIBPS Internship Application - Your Full Name'. We typically have internships available during the fall, spring, and summer semesters. Applications will not be reviewed unless both documents are included.

Interns will work on several studies that focus on sexual behavior, substance use, mental health, cancer, and healthcare access among racially/ethnically diverse populations of sexual and gender minority individuals and people living with HIV. Interns will be asked to recruit new participants into our studies through community-based outreach. They will also conduct assessments with our study participants, as well as participate in quantitative and qualitative data entry and cleaning.

CHIBPS
Location: One Riverfront Plaza, Suite 1020 (10th Floor), Newark, NJ 07102-0301 [NOTE as of September 2022: As we move back to the office, staff and interns are expected to be in the office at least 2-3 days a week.]
Compensation: Unpaid
Duration: Temporary/Seasonal
Minimum GPA: 2.0
Allowed school years: college freshman, sophomore, junior, senior, masters, doctorate, postdoctoral studies

*Please note: We receive applications from many more qualified individuals than we have spots available in our program. Only individuals selected for an interview will be contacted.
For more information on the Center for Health, Identity, Behavior and Prevention Studies (CHIBPS), please contact Deputy Director, Dr. Kristen Krause, PhD, MPH
Newark
CHIBPS
One Riverfront Plaza
Suite 1020 (10th Floor)
Newark, NJ 07102
(973) 972-1748