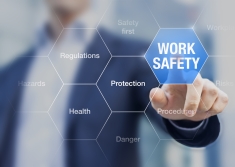 A job hazard is anything at work that can hurt you either physically or mentally.
Some job hazards may be more obvious to identify than others. To be safe on the job, it is necessary to be able to identify different types of hazards and know what you can do to control them.
Safety Hazards

These hazards are physical factors or problems that can lead to immediate accidents or injuries.
Examples: hot surfaces, slippery floors, hot irons, sharp scissors, etc.

Chemical Hazards

These hazards are commonly in the form of gases, vapors, liquids, or dusts that can harm your body if exposure occurs. Skin and respiratory disorders may develop from working with allergenic or irritating materials. Routes of exposure include absorption, inhalation, or ingestion.
Examples: Pesticides, cleaning products, nail polishes, wet paint, etc.

Biological Hazards

Living things can cause diseases and associated symptoms.
While small infections or cuts on a client may look harmless, workers must take precautions. It is important to remember these hazards involve living things, some of which can cause diseases and associated symptoms.
Examples: bacteria, viruses, insects; after exposure through open sores, broken, or cracked skin.

Other Hazards

These hazards are harmful factors like radiation not included in other categories. This can also include hazards that cause harm to both your body and your mind. When at work, employees should be in a comfortable environment and ensuring workplace responsibilities are not causing physical or mental pain.
Examples: noise or repetitive motions, prolonged standing, awkward positions, stress, etc.

Handling Workplace Hazards

Steps in Problem Solving
Define the problem
Get advice
Choose your goals
Know your rights
Decide the best way to talk to the supervisor
If necessary, contact an outside agency for help. More information available in the Extra Resources tab.