NJSS
Personal Protective Equipment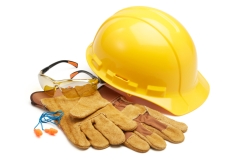 What is PPE?
The acronym PPE stands for Personal Protective Equipment.
Employers are obligated to use all feasible means and work practice controls to reduce hazards in the work place. Then, use appropriate PPE when any other form of control cannot eliminate hazards.
Based on the type of job and the associated hazards, additional personal protective methods and control measures may need to be taken to ensure the safety and health of workers.
Examples of PPE:

Eye - safety glasses, goggles
Face - face shields
Head - hard hats
Feet - safety shoes
Hands and arms - gloves
Bodies - vests
Hearing - earplugs, earmuffs
Who should have PPE?
Every worker whose responsibilities put them at unpreventable risk to hazards.
New employees should inquire with supervisor about what risks are at their job and the methods and supplies to use to prevent risks to safety and health.
Who should provide PPE?
When PPE is required to protect employees, it must be provided by the employer at no cost to employees, except for specific items, such as:

Safety-toe footwear
Prescription safety eyewear
Everyday clothing and weather-related gear
Logging boots

Employers are also required to train employees who wear PPE on the following:

When PPE is necessary
What type of PPE is necessary
How to properly put on, take off, adjust, and wear the PPE
Limitations of PPE
Proper care, maintenance, useful life, and disposal of PPE