NJSS
Chemical Hazards and Cleaning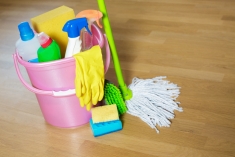 Reduce Exposure To Harmful Chemicals
Many cleaning products produce odors and emit chemicals contributing to poor indoor air quality and can be harmful to the individuals exposed to them. When possible, transition to safer cleaning alternatives to help protect the safety and health of you, your co-workers and your clients in salons.
According to FDA, descriptions of "hypoallergenic" or "natural" can "mean anything or nothing at all".
Many disinfectants used in the workplace are not completely necessary and can trigger asthma.
How can you keep yourself safe
If a chemical ingredient has not been proven safe, then find a healthy alternative.
Read ingredients on the label, even on "natural" brands.
Whenever possible, look for products with ingredients only providing proven benefits.
Use non-toxic products.
Do It Yourself - Create your own formulas using safer ingredients.
Speak up if you feel a safer option is available.
For more information check out the Environmental Health Center at Hackensack University Medical Center and check out the Deirdre Imus Environmental Health Center & Greening the Cleaning Initiative.

http://www.imusenvironmentalhealth.org/
http://www.greeningthecleaning.com/